<< < 1 2 3 4 5 6 7 8 9 10 11 12 13 14 15 16 17 18 19 > >>
This is a Diagram of a Split System Heat Pump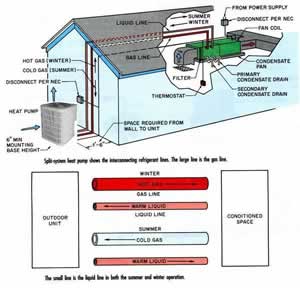 Vertical or Upright Position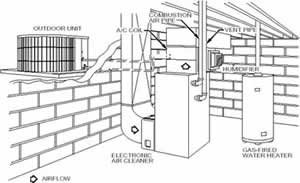 Horizontal or Side Mount
Downflow or Upside Down Position
The 2 Basic Different Types of Equipment Systems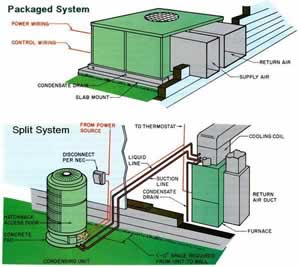 A Fiberduct System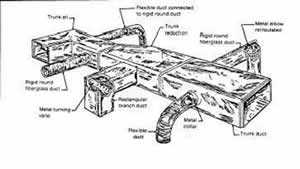 Center Discharge System Below is the Least Effective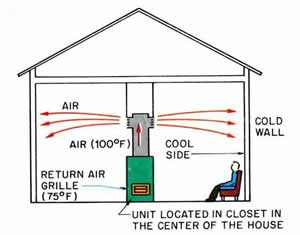 System below shows floor fed system in lower drawing and ceiling fed in upper drawing. The low feed system is excellent for heating and the ceiling fed is excellent for cooling.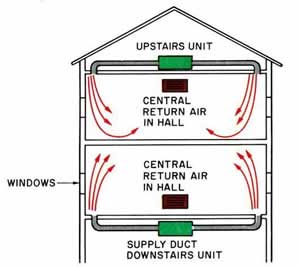 The System below shows a metal duct system with all the possible fittings available for a metal system. All metal duct that is not exposed must be insulated to prevent sweating and loss of heat transfer. Metal duct systems will leak air more than a fiberduct system. When compared to a fiberduct system to a metal system that is equivalently insulated, the fiberduct system is more air tight and less expensive due to less labor to manufacture and install.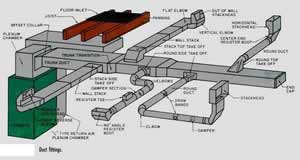 No matter what type of system you are installing whether it's a gas furnace, oil furnace, heat pump, central air conditioning, DESCO is your one your equipment as well as the duct system. From A to Z we carry the equipment, duct supplies, tools and all components.
For further research and information on Fiberglass duct fiberglass insulation etc., go to NAIMA the North American Manufacturer's Association which is the leading organization for information and manufacturers of fiberduct.
For further information on flex duct go to the Air Diffusions Council. This is the leading organization for flexible duct. For further information on Manual D and other engineering aspects of duct systems go to ACCA,SMACNA and ASHRAE, the leading organizations for engineering standards for HVAC and Ducting Systems.
Further information can be obtained through ARI and Dwyer as well as NATE. Other sources of information for research can be the U.S. Department of Energy and Military Sources for declassified information on HVAC basics and fundamentals.