<< < 1 2 3 4 5 6 7 8 9 10 11 12 13 14 15 16 17 18 19 > >>
Diffusers
There are many types of diffusers both for supply and return.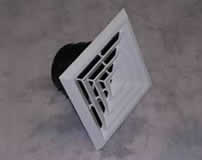 This is a typical ceiling diffuser that is used for ceiling mount connecting directly to round flex duct
The best designed duct system has both a low and high supply diffuser in the wall at each location. In the summer the high diffuser is open and the low diffuser is closed. This allows the cold air to fall and disburse the air properly in the area.
In the winter it would be exactly the opposite and the supply air would be open in the lower diffuser and the top diffuser would be closed providing proper heat disbursement and eliminating stratification problems.
Also note a supply diffuser can be used as a return diffuser for better appearance but a return diffuser can not be used as a supply diffuser.
The best return air system and diffuser is a return diffuser that has a filter rack. Using a pleated filter such as 3M or equivalent provides excellent air filtration and elimination of dirt from entering the duct system altogether. The second best filtering system is a High Media filter at the indoor unit whether it is a furnace or air handler.
Never Use Both a pleated return filter in conjunction with a High Media filter.
The following is a Return Air Filter Diffuser
Other examples of supply and return diffusers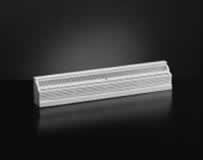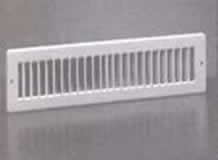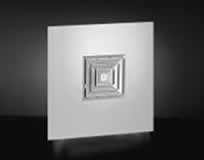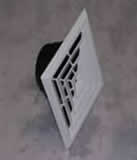 Now that you are more familiar with duct components and their applications there is another very important part of all this which is the duct design. Knowing what size ducts and how to lay out a duct system and proper installation and air distribution. For further information you can also call us Toll Free at 877-265-9764
Here are some more installation and design tips.
Consider the application of 2 or more HVAC systems if:
Your house has 1800 square feet or more
There are open staircases
There are open loft areas
There are cathedral ceilings with open stairways
There are major temperature control problems
And always when there is 2500 square feet or more.
Consider using the Therm O Thimble for refrigerant line sets for a much better appearance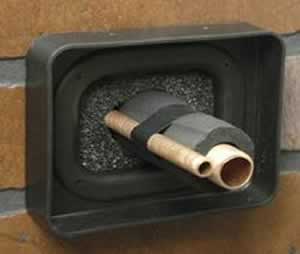 THERM O THIMBLE
THERMO MANUFACTURING INC.

Pending
T H R O U G H - T H E - W A L L L I N E S E T K I T
The easy way to run A/C line sets, electrical and thermostat wires through walls!
Made in U.S.A.
ThermoThimble is innovative.
Creates a permanent, air-tight seal through walls.
Temporary plug keeps out air, insects and other pests.
For new construction or retrofit.
No ugly holes to patch.
ThermoThimble is easy to install.
Installs easily on siding or masonry walls.
Flange pre-marked for nails or screws.
Unit offers custom, professional look.
No snagged line sets.
Add a professional look to
through-the-wall installations!
TM
ORDER# SIZE PC/BOX
THIMBLE KIT 44008 For walls 8" or less 20
THIMBLE KIT 44112 For walls over 8" 15
PRODUCT
When replacing an existing HVAC system or building a new house, DESCO will help you to install the complete system, not just the equipment. Anybody can sell boxes. Unfortunately box sellers have no clue how to design or assist in duct systems. Make your HVAC system a complete system including the duct system. New houses and renovations are our specialty. We will also review your duct design at no charge to any customer who is purchasing an HVAC system.
We only provide pre cut fiberduct to customers who have purchased an HVAC system. This service is limited to only these customers as well as duct design review.
All other components are available for sale to all customers such as Thermo Pan, whole sheets of duct board, tapes, diffusers, etc. Due to demand Duct design recommendations and prefabricated duct systems and duct review services are only available to customers who purchase HVAC systems.
DESCO is the only seller of HVAC products who can provide a complete HVAC system that can be assembled like an erector set including the duct system.
DESCO is also the only company that offers this complete service.
There are box sellers and then there's DESCO leading the way for revolutionizing the HVAC industry for internet sales.
Another installation replacement tip
If you are replacing an existing heat pump or air conditioning system and not replacing the existing line set, we require the use of a Suction Line filter drier. To avoid problems of contamination from the older system into the new system the suction drier protects the new system from contamination and premature failures. The best protection is a Sporlan suction line drier. We sell these driers for all replacement systems. Don't depend on the installer to do this for you.