<< < 1 2 3 4 5 6 7 8 9 10 11 12 13 14 15 16 17 18 19 > >>
Duct Systems
What they are, how they are to be installed, their purpose and how to design a duct system.
The below items are filter racks and labor savers which are commonly referred to as return air plenums. We have these labor savers and filter racks to fit all size air handlers and furnaces we carry. Check our other listings for plenums for more details on these items. The labor savers are tremendous labor savers and will accommodate 1", 2" and 4" thick filters. There are several types of materials used to construct a duct system. There is the original traditional sheet metal for rectangular ducting, fiberglass duct board, fiberglass flex duct, foil chase wall barrier, round spiral, fiberglass round, sheet metal round duct . The 2 easiest materials to work with are fiberglass duct and Thermo Pan foil chase wall barrier. The first easiest material to work with is the fiberglass duct board which is well insulated and forgiving. Fiberglass duct can be trimmed with a razor knife and provides insulating qualities as well as excellent sound deadening qualities for a quiet system. It is also lighter weight than sheet metal.

This is fiberduct which is typically sold in 4' x 10' sheets. It is 1"-1-1/2" and 2" thicknesses. For most parts of the country the 1" thick is sufficient. However in states such as Florida, the 1-1/2" is required. Fiberduct has several finishes internally. The standard finish and then there is the mold and mildew resistant material. The premium finish is the Tough Guard product. The Tough Guard has the smoothest and toughest finish to reduce resistance to air flow.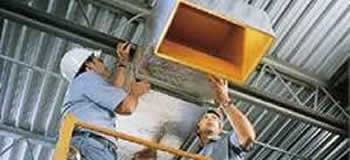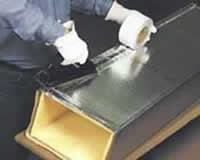 To fabricate fiberduct, a duct knife can be used but requires a lot of time as well as precision. To save time, there are special tools used to easily and quickly fabricate the duct material. To bend the material into rectangular shapes, there is a V-groove tool. To form lap joints so the duct board overlaps itself at the final rectangular joint this tool is called a ship lap. Also to join two pieces of duct board together also requires lap joints. Lap joints are male and female. To final fasten the rectangular duct joints together a part of the aluminum backing of 2" is overlapped on to the joining section and stapled together using a special duct staple gun. The duct staple gun installs the staples with an outward flare to provide proper joining.
After the duct is stapled then a special duct sealant tape is used to finally hold the duct together in a very ridged form.
Properly fabricated and installed using the correct tapes, a duct board duct system will last forever.
At DESCO we use a special machine manufactured by Glassmaster that will perform all the cutting operations automatically in seconds.
With the proper basic hand tools you can fabricate almost any style duct you need including square, rectangular, transitions, round to octagon, fittings, adapters, etc. Without the need for an elaborate sheet metal shop and all the equipment required for sheet metal and tools, you can easily cut and layout, fabricate and assemble almost all types of fittings. Another big advantage to fiberduct is it's forgiving. If you're in a tight area and if you are trying to force sheet metal ducts, they don't forgive. Wasted time is spent refabricating and making other sheet metal parts. With fiberduct it will forgive and can easily be trimmed with a razor knife.
In certain areas of the country 1-1/2" thick duct board is required. Check your codes to see the requirements on your particular area. In Florida 1-1/2" duct board is mandatory and must be the same mildew resistance and water resistance as the CertainTeed Tough Guard. Duct board thicknesses come in 1" - 1-1/2" and the new 2". For most parts of the country the 1-1/2" is accepted but for areas with more intense climates and stricter codes the 1-1/2" is required.